Malcolm Magaron (lead vocals)
Del Grace (lead guitar)
Mick Fletcher (keyboards)
Terry Hewitt (bass)
Pete ? (drums)
This short-lived band was called The Rifle and was the brainchild of former Carl Douglas & The Big Stampede guitarist Del Grace, who put together an earlier line up in late 1967 to play a lucrative ski resort gig in Verbier, Switzerland over the Christmas period.
Malcolm Magaron had started out fronting Malcolm Magaron & The Blueshealers who were regulars at the Bag O'Nails in late 1966, which is probably where he first met Del Grace as Carl Douglas' band worked there extensively during the same period.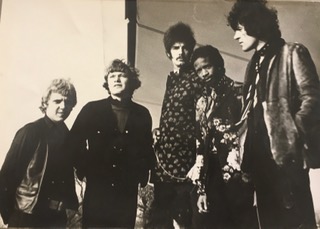 Mick Fletcher, who'd worked with Del Grace in The Epitaph Soul Band during 1963-1965 period, joined after working with Hamilton & The Hamilton Movement.
When the band split up, Del Grace did some recordings for Liberty Records. Mick Fletcher joined The Amboy Dukes and Malcolm Magaron sang with The Les Humphries Singers.
We'd love to hear from anyone who can add any additional information in the comments section below.
Thanks to Del Grace for the photos.
Disclaimer: This story is auto-aggregated by a computer program and has not been created or edited by Beatsway.
Publisher: Nick Warburton